Monetize your traffic with a
major

CPA network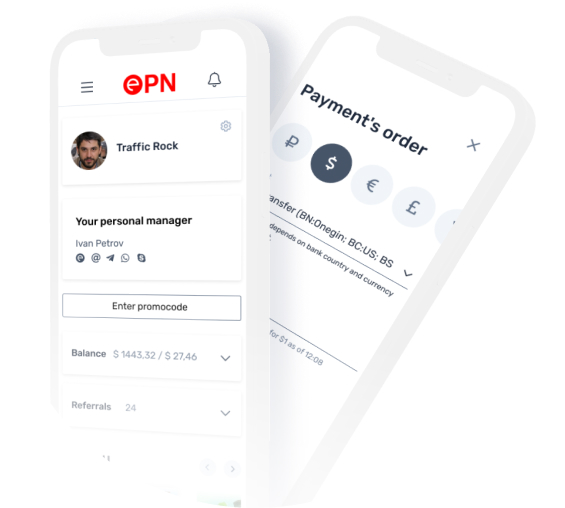 770 000+
Webmasters work with us
Webmasters work with us
Webmasters all over the world work with us
$74.4M+
Paid out to our partners
Paid out to our partners
Paid out to our partners
$1.5B+
Generated in revenue for advertisers
Generated in revenue
Generated in revenue for advertisers
Advertiser
Wants to increase their sales, places their offer on ePN Affiliate
Webmaster
Attracts traffic to the advertiser's site. If users make a purchase, the webmaster gets a reward.
ePN Affiliate
Provides its platform, bringing advertisers and webmasters together. It monitors the quality of traffic and pays out rewards.
Who is this for?
Owners of websites, price comparison services, affiliate stores
Owners of websites, price comparison services, affiliate stores
Affiliate marketers who work with PPC (pay-per-click) and social media advertising.
Beginners and experienced bloggers and video bloggers.
Cashback services and loyalty programs.
Users and owners of social media groups and channels in messaging apps.
Benefits of working with us
Detailed statistics
Statistics of all advertising campaigns including clicks, orders, and sales are available in real-time for viewing by country, operating system, creatives, and subid.
Detailed statistics
Statistics of all advertising campaigns including clicks, orders, and sales are available in real-time for viewing by country, operating system, creatives, and subid.
Quick and convenient payments
Payouts are made through electronic wallets (WMZ, Toncoin), bank cards, and other methods
Personal manager
We are interested in helping your revenue grow, so we are always ready to quickly help you solve any questions.
Easy start
Over 200 offers and worldwide geos, exclusive offers, and special conditions for verified webmasters.
Tools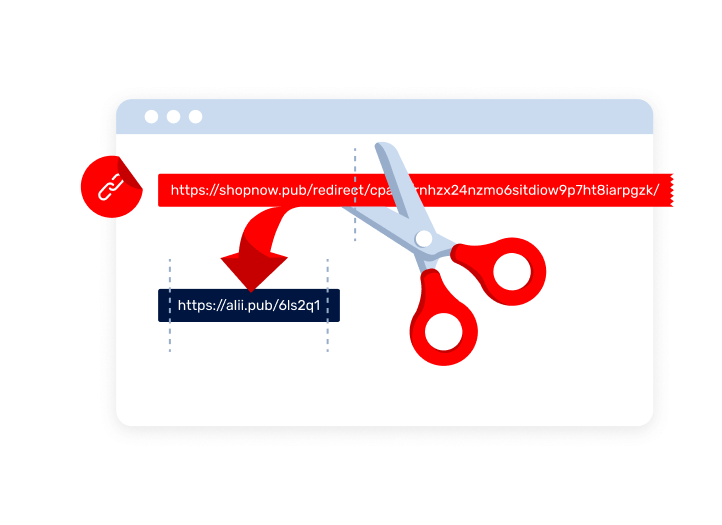 How to get started?
Sign up
After registering you will get access to 200+ offers.
Choose an offer
Connect the platform, site or social network from which you will advertise.
Launch traffic
Drive advertisers traffic that will perform targeted actions.
Earn
Get rewards for your users actions and withdraw your earnings in any convenient way.
Monetization - What is it (in simple terms)
Monetizing your website or blog is a very important aspect for website owners, popular bloggers, channel owners, and webmasters. It allows you to generate additional income from your content and use it as a source of earnings. However, before you start earning, it is necessary to understand the basic principles and types of monetization.
What is monetization?
Monetization is the process of earning income from your website or blog. Website owners and popular bloggers can employ various strategies to maximize their earnings. At the core of monetization is providing content or services for which users are willing to pay.
Types of monetization
There are three main monetization models used in online advertising:
CPM (cost per mile) - this method involves a website receiving a certain amount of money for every thousand ad impressions. In this case, the website owner agrees to display ads on their pages to attract more visitors, and they receive a specific payment for it. The performance of the ad does not matter in this case - the advertiser pays regardless of what happens after the ad is shown.


CPC (cost per click) - this method involves the advertiser paying the website for each click on their ad. Unlike CPM, where payment is based on impressions, CPC ensures payment only for user activity of actually clicking on the ad. The advertiser may set the price per click, and the website receives payment based on the number of clicks made on the ad.


CPA (cost per action) - this method involves the advertiser paying the website for a specific user action. This can include filling out a form, registering on a site, making a purchase, and so on. Advertisers typically pay for quality actions that lead to conversions. Websites, in turn, receive payment for each successful action completed by a visitor after clicking on the ad.
The CPA model is an effective monetization method for advertisers and partners. It allows for targeted investments, analysis of results, and the achievement of specific goals. Thanks to the flexibility and transparency of this model, it has gained popularity among internet marketers and has become an indispensable tool for successful income generation in online business.
Monetization through the CPA model
Monetizing through the CPA model is an effective way to earn additional income. It allows website owners to generate revenue from specific user actions, such as site registrations or purchases. Monetization is a good way to earn from your traffic and receive payment for real results.
Who is monetization suitable for?
This method is suitable for website owners, popular bloggers, content creators, and webmasters who want to earn additional income from their content. Regardless of the website or blog's topic, there are various options that can generate revenue. It is important to choose the appropriate monetization method and adapt it to your audience.
Ultimately, monetizing your website or blog provides an opportunity to earn additional profit and utilize your content as a source of income. The earning possibilities can vary and depend on the topic and characteristics of your resource. It is important to select suitable monetization tools and strategies to maximize your earnings and achieve success.
Monetization in the ePN CPA network
One of the main methods of monetization in ePN is participating in affiliate programs of online stores. ePN has a wide range of affiliate programs that include well-known online stores such as Wildberries, Ozon, Lamoda, and many others. You can choose suitable affiliate programs and start earning by attracting customers to these platforms.
The advantage of participating in ePN's monetization affiliate programs is that you don't necessarily need to have your own online store or product to sell. You can place advertising materials such as banners or text links on your website, blog, social media platforms, and attract users to affiliate stores. When a user makes a purchase or completes a specified action for which payment is provided, you receive a commission.
For effective monetization in ePN, you need to develop a strategy for attracting an audience and define your target audience. You can choose a specific theme, such as fashion, electronics, sports, etc., and target users interested in that theme. Create interesting and valuable content to attract users' attention and convince them to visit the affiliate store and make a purchase.
Conclusion
Monetization is a great opportunity to earn money online. By combining the right audience attraction strategies and working with relevant offers, you can achieve financial success. If you are interested in earning money online, we recommend becoming a participant in ePN's affiliate programs and start applying your skills to generate stable and profitable income.