Hello friends!
We announce the start of big race with a total prize fund more than 3 million rubles!!!
RACE EPN CASHBACK - the challenge among ePN users, in which everyone wins. Start attracting users to ePN Cashback right now and you can not only earn, but also win valuable prizes. More users you attract, more valuable prizes you can get and the higher chance to win. Prove that you are the best!
The terms of participation:
– Actively attract users to ePN Cashback. For each active user attracted by the referral link (who made purchases for more than $1), you get 1 point (km).
– If the attracted user bought more than $10, you get 1 additional point (km) once.
– The race is divided into 7 categories. Each category has its own requirements and prizes. The chances for victory grow in proportion to the number of scored points.
We made changes to the conditions of the referral program, and now it has become even more profitable. Choose one of 3 programs to attract users:
1. Standard
The classical model of attracting referrals. You get 20% of cashback of the attracted user in the first month, and up to 30% rest of the time.
2. Hybrid
Suitable for webmasters, who promote goods on Aliexpress. You get 5% of the cost of the first purchase, as well as 10% of the user's cashback rest of the time..
3. Accelerated
Suitable for arbitrators and mobile app ePN Cashback advertising, as well as videoblogers. You get from $1 to $5 for the active user.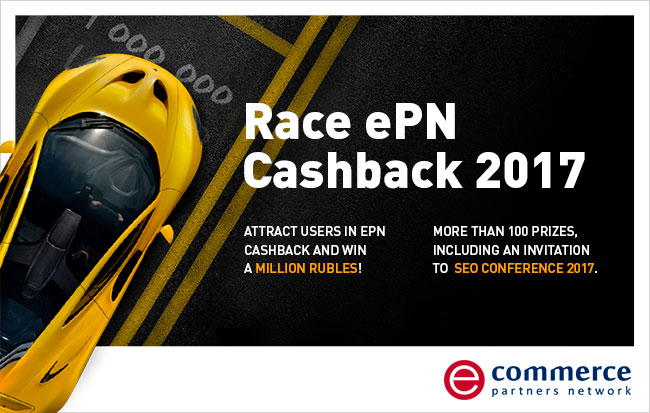 PRIZES:
Join the fight for the main prize of 1 000 000 rubles or the legendary Mercedes! And also there are more than 100 valuable prizes, including an invitation to SEO Conference 2017.
More information: http://got.by/1hly2a
Play big!
Team ePN.